***
"Let your mind start a journey thru a strange world. Leave all thoughts of the world you knew before. Let your soul take you where you long to be… Close your eyes, let your spirit soar, and you'll live as you've never lived before." … Erich Fromm
***
Any search for the perfect wave begins with the movie The Endless Summer.
Filmed in 1966 by Bruce Brown, the classic surf movie was conceived with the idea that if one had enough time and money, it would be possible to follow summer around the world.
You don't have to be a surfer to understand the allure of such an adventure. It doesn't have to be palm trees swaying in a tropical breeze, or near perfect waves breaking just offshore.
It only has to be where life is perfect for you, wherever that may be.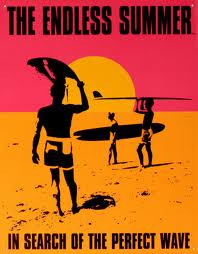 Perhaps if one had enough time and motivation, it would be possible to create endless change in the world by starting a ripple effect with one simple act of goodness. Every thundering breaker was once a motionless sea, and every seashore is never without at least small reminders of bigger things to come.
Raise your goals to lofty heights, instill your actions with unbridled spirit, ride the countless waves of opportunity, and together we will change the world.
I enjoy hearing from those who are on their own personal journeys. Please feel free to comment, and/or introduce yourself, and share your love with the world.
Together we can create great goodness.