***
"It's not because things are difficult that we dare not venture.
It's because we dare not venture that they are difficult." … Seneca
***
Several months ago I found myself soaring high above the clouds. 38,000 feet and 3,000 miles lay between me and the sadness that I tried to leave behind.
An upgrade to first class, and a charming flight attendant brought a smile to my face, but it wouldn't last. Even countless glasses of coursing wine couldn't chase away the pangs of sorrow that overwhelmed my broken heart.
I thought I had found what truly made me happy, which today I am realizing was indeed partly true.
***
Paint brush in one hand, a sloshing bucket in the other, I carefully inspected the 12 foot wooden ladder. It appeared sturdy, though the 10 foot mark was defaced by a reckless pattern of hammer marks where mismatched boards were joined together.
Like I said, it looked sturdy enough.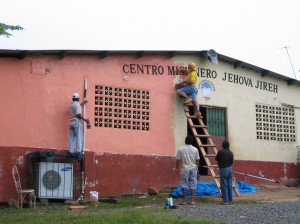 I've been wrong before.
Up I went.
The C came into view as I filled the surrounding space with fresh paint. Centro Misionero Jehova Jireh would soon proclaim its renewed welcome to all who would venture through its always open door.
I've never had much of a problem with venturing.
My gracious hosts were busy below as I inched my way to the right. A few trips up and down the questionable ladder to refill my bucket were simply part of the deal. I liked the deal. I was in a place where people needed help, and I was able to provide it.
Little did they know that I received far more from them than anything I could possibly give.
I don't expect any awards, not even a pat on the back. I'm no star. Is anyone?
I was halfway through Jehova when, after filling my bucket, I once again ascended the community ladder. Hands full and my heart in flames, Heaven was 12 feet above me.
Confident steps carried me closer, and I smiled. Nearing the h I pushed hard with my right leg to reach the pinnacle.
As the two sections of ladder separated I watched swollen drops of paint hover above me. It was too late to be concerned. I was going to hit the ground hard.
Have you ever felt your life to be completely out of your own control? Like the present moment has passed without consequence, and the future is, well, the future. I was ushered into a strangely timeless limbo, and it was calm.
Father Alfredo came running as I lay on the concrete. Surprisingly I was unbroken, and though there was significant pain, I accepted the calm that embraced me.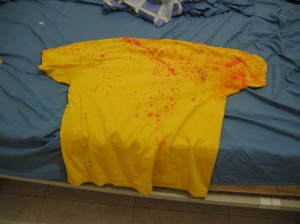 Work was done for the day, and Father walked with me back to my home.
***
It was easy going to Panama. Many told me I was a bit unhinged. Well, I've always enjoyed being like a banging door coming off the hinges. It makes things simpler, you know, less time to contemplate fear. Perhaps many years of surfing in front of large rocks has a lot to do with my adventurous invincibility.
I must admit though that the arms of adventure hold me far more tightly than any perceived sense of well-being, and as life would have it, after averting serious injury while painting in Panama, I was blessed with wonderful, loving moments in the arms of a beautiful woman.
I thought I had everything; love, adventure, and opportunities to make a difference in the lives of those less fortunate than most of us in America.
Sadly, today it's just a memory, and my heart is like a laden wilderness where flowing waters no longer mingle.
I struggle to understand what happened, and why. I'll probably never know, and perhaps that's the way it should be.
But if we dare not venture, things will always remain unexplained. Too many questions will eventually paint a pretty picture with no Soul.
Venture into the arms of the Universe in search of secrets. You will never be misled, or denied. Open your heart to sorrow, and you will also find great joy.
No matter how hard we try to bottle up time, it unfailingly continues to move forward.
Love keeps calling. And though I'm still falling, I'll be OK.
You will too.
***
Volunteering your time and expertise wherever and whenever you're able is always something of great value. It takes very little to bring a smile to a poor man's face, and to see the brightness in his eyes.
The world is filled with opportunities to create change and make the world a better place.
Latin America is dear to my heart, and I have volunteered my time on several occasions south of the border.
A valuable resource for volunteer opportunities can be found here:
http://www.volunteersouthamerica.net/
Share your love with the world. It awaits you with open arms.